7 Top Mobile App Development Trends to Watch Out in 2021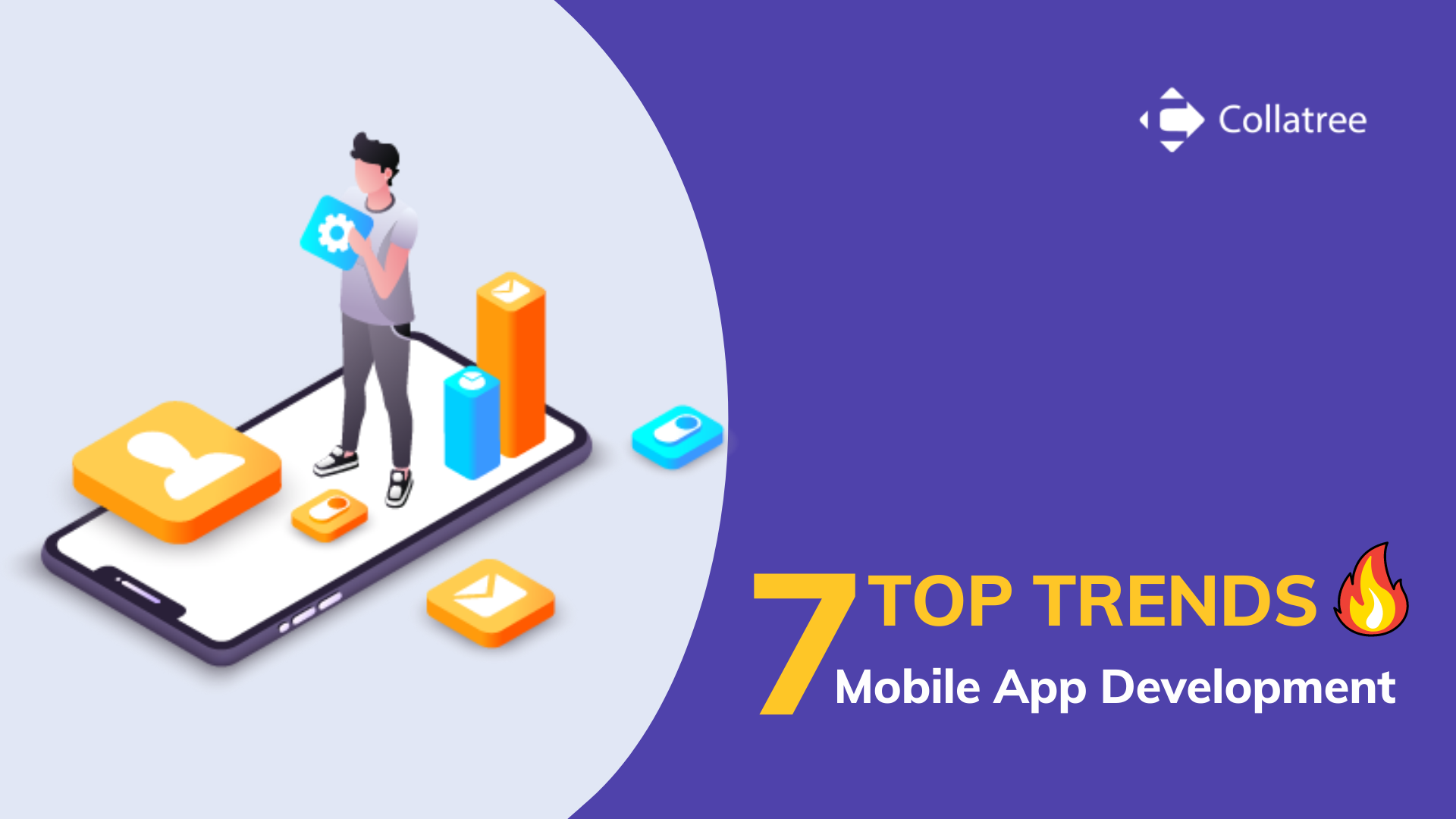 Technology on its fresh trends and inventions has always backed up smartphone users. It has been an inevitable part of the world and this smartphone revolution is why app development is hitting its peak on demand. Nowadays, organizations are striving hard to take advantage of mobile technology for their audience following every new trend of app development. As per surveys, more than four billion people around the world use smartphones and devices to navigate/get information, listen to music, play games, watch movies, order food, review, and purchase goods. It's now the right moment to say Smartphones are the best companion of man.
Over the decades, mobile app development has been an increasingly profitable business. Mobile apps are projected to generate comparatively more revenues than any other product. So that businesses hire professional developers to watch out for continuous trends in mobile app development that they can leverage to create new applications.
Here's a list of the latest Mobile Application Development trends that would help you maintain the mobile app industry for the future.
M-Commerce
Internet of Things (IoT)
5G Mobile Internet Network
Artificial Intelligence & Machine Learning
Cross-Platform App Development
Beacon Technology
Augmented Reality and Virtual Reality
M-Commerce
At present, an unprecedented Covid-19 pandemic situation created a sharp spike in E-commerce sales like never before. Along with this, retail stores experienced huge losses as the online platform was a priority chosen by most of the owners. In the present scenario, according to studies, global m-commerce will generate over €2.8 trillion in revenue and tends to increase in the upcoming years. Mobile app developers are integrating some of the exciting features like One-click ordering, voice shopping, and omnichannel retail into existing E-commerce portals to provide customers with a faster and hassle-free experience.
Internet of Things (IoT)
The Internet is doing much of its part towards controlling our daily life. That's where the Internet of Things (IoT) turns in. It has been developing so far, receiving positive reviews, having great significance in many domains. We have been experiencing IoT in connected appliances, smart home security systems, autonomous farming equipment, wearable health monitors, smart factory equipment, wireless inventory trackers, biometric Cyber Security scanners, and much more. Some of the IoT products in our daily lives are the Amazon Dash button, Phillips lighting system, August doorbell cam, August Smart lock, etc., which pave the way towards the future of Mobile App Development.
5G Mobile Internet Network
It is expected that the number of 5G  users will be more than double 600 million by next year. And that leads to nearly half of the mobile phones having implemented 5G technology. The latest updated versions of the iPhone 12 by Apple, have stated that they made provisions for the 5G network adoption. This clearly depicts a picture of the most anticipated mobile app development trend of the 5G Mobile Internet Network. It can be 100-times faster than 4G. Revolutionary changes could be made using 5G technology to those video streaming apps, user-friendly VR & AR 3D objects, and better connectivity of IoT devices and services. A few applications of 5G in future trends are Wireless healthcare services, Cloud Computing, Driverless vehicle technology, etc.
Artificial Intelligence & Machine Learning
In the future, Artificial Intelligence & Machine Learning is going to hit our lives hard. The existence of this technology in mobile applications and devices has been associated with Voice Search, Face Unlock, Chatbots, etc. The combination of AI and ML can be implemented in developing mobile apps through continuous problem detection and real-time fixing. Apart from this AI trends including AI-based cameras, voice translations, user predictions, etc. are going to make new impacts on Mobile phones. A few upcoming trends of AI are Image Recognition, Classification, & Tagging, scalable processing of patient data, Object Identification, Detection, Classification, Tracking, Automated geophysical feature detection, etc.
Cross-Platform App Development
MNCs like Facebook and Pinterest have been using a cross-platform app development approach towards cost-effective app development at reduced time. It has been one of the top Mobile App Development trends in the industry recently. According to experts, the mobile app development trend will reach a new high with the launch of Google's Flutter. It is a UI toolkit for creating natively compiled mobile apps, web apps, and desktop applications from a single codebase. With the help of this technology, mobile app developers can create customized applications within due time, capital, or effort.
Beacon Technology
When it comes to e-commerce or shopping apps, the particular apps would show your desired product details to try out at the nearest store before making an online purchase. With Beacon Technology our life becomes more manageable. It is one of the most promising mobile app development trends with immense potential in healthcare, travel, tourism, mobile payments, and gaming. Introduced by Apple in 2013, this technology makes use of Bluetooth Low Energy (BLE) signals to provide its users with relevant information and guidance. Whereas Google came up with its very own Beacon Technology called Eddystone in 2015. Then on mobile app developers have been brainstorming on new inventions to integrate Eddystone into android applications.
Augmented Reality and Virtual Reality
AR & VR technology is that mobile app development trend mainly used to impact mobile applications related to camera, video, and gaming. At the same time, Apple's ARkit and Google's ARcore give an impression of a mixed reality revolution. ARkit enables app developers to quickly build AR experiences into their apps and games using the device camera, processors, and motion sensors. This even helps users examine a room's layout, capture volume, and depth accurately. Today, this technology presents unique features like motion tracking, people occlusion, and mixed reality smart glasses that provide a better visual experience. Future Trends of AR & VR include Virtual training simulations, Live music festivals & concerts (VR based), Visual Learning (VR & AR), and many more to name.
Future of Mobile app development trends: a Conclusion
With the introduction of 5G networks, Machine Learning, AI and Augmented Reality technologies, the future of Mobile app development is regarding performance, simplicity, and personalization. App development is witnessing constant upgrades and changes that firms need to be updated with newer technologies and innovations to stay apart from their competitors. This integration of fresh trends with mobile applications is a great deal for industries in the upcoming days. If you're looking for mobile app development or hiring a dedicated app development company, feel free to reach out.