LMS Features: 9 Important LMS Features for Your eLearning Software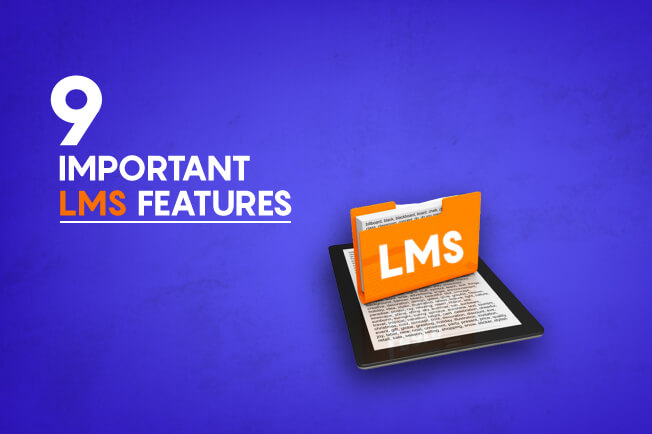 More and more organizations are switching from traditional classroom training to e-learning software to train employees on the job. If you're also ready to make the transformation but are not sure which learning management solution to purchase, we can help you make a decision.
Here are 9 features that your LMS absolutely must include:
1. Course Creation
You may think that this comes as part and parcel of the LMS but it's not so. The basic LMS packages don't include an option to create courses inside the app; you need to create the text content and videos elsewhere and import it into the learning software. That can become very tedious. For a seamless experience, ensure that the LMS you're purchasing has an option for course creation.
2. Asynchronous learning
This means learners should have the option of learning at their own pace; after all, it's one of the biggest benefits of a cloud based learning system. Learners should not be compelled to attend lectures or sessions at set timings; by providing FAQs, chat and discussion forums along with videos and textual lessons, the LMs can facilitated asynchronous learning, making it very easy for them.
3. Gamification
Let's face it, today's 'millennial' generation grew up playing video games; if you want them to actively participate in any kind of learning, it's important to make it interactive and fun for them. What better way to do that than gamification? Turn the course into a friendly contest, and you'll see learners eager to complete courses on time!
4. Mobile Support
One cannot imagine any app without mobile support today, as a majority of people use mobile devices for almost everything – browsing, shopping, chatting, sending emails, watching movies and so on. Make sure the LMS you choose has mobile support.
5. Video Conferencing
With this feature included in the e-learning management software, learners who require some personal attention or have any queries for the trainers will be able to get more clarity on the topic and be able to get through their lessons without hassles. They can choose a time convenient to both the learner and trainer, and get on a video call to understand a particular topic better. This also makes it easier for the learner, rather than send an email and wait for the reply.
6. Assessment and Certification
It's not enough to just make the courses and ask the learners to complete them; you need to evaluate them once in a while to make sure that they have actually learned something, and not just gone through the lesson without taking in anything. An ideal learning management solution will facilitate online exams and quizzes and their correction. Students who have completed the evaluation successfully can be awarded certificates as proof of course completion. In the workplace, this can help employees when it comes to job promotions, raises, and so on.
7. Tracking and Reporting
An efficient LMS should be able to track the progress of a learner; let's say they started a course, but have not completed it; the system can give a reminder to the learner to complete it, and an alert to the trainer/HR manager as the case may be, that the student's progress is lagging. A good LMS will also help the organization assess the efficacy of the course they have created as well. If a large number of students are seen to be struggling with a particular course or topic, when the statistics are seen by the management, they will be able to understand that there is something wrong here and that it needs to be rectified.
8. Social learning
Social media is an inextricable part of our lives today. Love it or hate it, you can't ignore it. There's a wealth of information to be had there too if you just know where to look. You can include links to relevant forums and pages, and set up internal forms where learners can discuss with each other and learn from one another. If this feature is included in your LMS you will also be able to add message boards. Learners always do better when learning together as a group; it takes away the boredom and reduces strain on trainers.
9. E-commerce
when you choose an e-learning management solution that lets you publish your courses online, you can monetize your courses and get in some extra revenue for your firm. You will even be able to add subscriptions to your course; this means regular income flow. This is not as pressingly important as the other features, but very handy if you're really interested in selling the courses you create.