E-commerce Content strategy: To improve traffic and conversions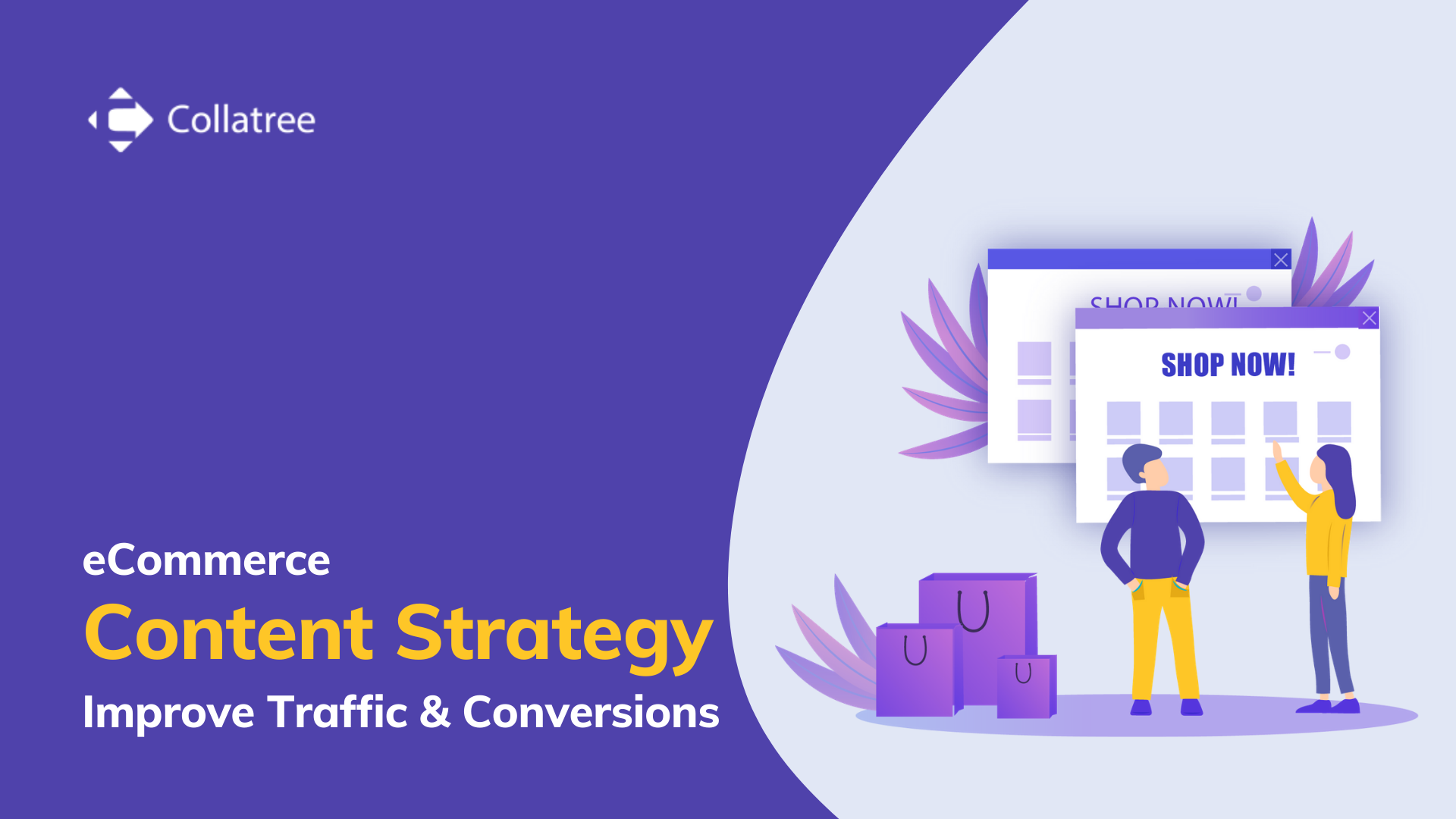 Do you know how your website content is impacting conversions? Most businesses are still new when it comes to content strategy. It doesn't define how well you do blogs over those certain topics related to your product or service,' N' times a week. If not, what does a content strategy look like?
The content marketing world needs a framework that helps to create a solid content strategy. We'll dig into a few content strategies in detail from different industries to perform well for better conversion and ROI.
What is an effective Content Strategy?
The content strategy emphasizes the business goals to be achieved through the content. One needs to analyze what type of content is best suited to achieve their goals, and how to create, distribute, and measure its performance.
Content marketing is a business investment which in turn requires time, money, and human resources as well. All these investments make up the result. For any business, defining a specific content strategy leads to focus and purpose to the whole effort. A well-defined content strategy provides a great foundation to make tactical business decisions.
How to build an e-commerce Content Strategy?
In creating a solid content strategy, entrepreneurs should initially go through their major resources towards the company. This includes the goals, competitors, budget and expense, and the basis of how to measure potential results. All this information plays a major role in shaping a content strategy.
Here are a few ways on how you can create the best content strategy to skyrocket your traffic and conversion rate.
1. Defining Business Goals
An effective Content strategy begins with defining the goals of your business. This is where you consider the brand value, theme, marketing objectives, and business requirements. Make sure you get buy-in from some major stakeholders for the biggest decisions will flow from your goal. Shift and modify the goals as the business grows. Alternately re-ensure that your content strategy goals are kept aligned with your business needs.
A few defined goals through improved content strategy are listed below:
Brand awareness
Customer Support
Retaining Loyal employees
Encouraging free trial
Attracting potential customers
Nurturing leads into conversions
Promoting frequent customers
2. Understanding the Audience
Knowing your audience is important for a successful content strategy. Go deep for every bit of insight you can find about your audience. Get answers to questions like; How and where to consume product information? Does the audience spend time on social media or Google for information? Do the users subscribe to a newsletter? Know about the demography of your product.
For B2B marketers it's often multiple users and is less complicated for the B2C products. These multiple users include the buyer, the end-user, experts who consult on the decision, the business owner, etc.
3. Continuous Competition Analysis
Keep an eye on the competitors and be vigilant on the updates. Get all the information regularly about the audience and market trends. Look for those practices that would firmly resonate with your audience. There are many free Site Overview Tools to view and analyze competitor data, including their website traffic arrival, their paid and organic keywords, backlink profile, audience interests, and much more. Presently as per surveys, only 5% of content creation budgets are going towards podcasts. Find keyword gaps for your content strategy.
4. Go for Unique Positions/Resources
Look for that hook that lets you cut through the clutter. Your clients would be attracted for a particularly unique reason. Discover what you can proffer than the competitor in the industry, or your unique point of view towards the brand or product, etc. There may be some tactics that you know and kept undiscovered due to scarcity of resources or constraints. This strategy helps you ahead of time and narrow down your way towards success.
5. Investment Estimation
Generally, an average B2B marketer spends about 26% of its marketing budget over content marketing and 84% plan to maintain or increase that. Initially estimate the investments and cost of your strategy before accomplishment. Be sure about the parts where you ramp up internally and where you outsource. Ensure about the budget before confirming your strategy. For that consider the useful link of the content, the resources, because they also possess a maintenance and retiring expense too.
6. Measure the Results
Keep a complete list of mandatory metrics and KPIs that will make sense for evaluating your content strategy concerning your goals. Content strategy is a long-term procedure. The results on the business bottom lines take much effort and time. Also, SEO being an important part of your strategy can make it less and watch the effect earlier. Notice and measure the progress by analyzing keyword rankings, backlinks, page views, and leads.
After effects: Better leads & Better CR
It is a fact that about 60% of goal conversions arrive from organic search visitors. The content strategy when accomplished perfectly generates better leads and makes the business successful over time. Even frequent and good blogs are bringing in qualified traffic. With an effective strategy, there is a huge rise in overall conversions and a rise in the number of conversions from search traffic.