Mobile CRM: Why Your Business Needs a Mobile CRM Strategy
Post summary:
What is Mobile CRM?
How is mobile CRM important in your sales?
What are the advantages of Mobile CRM?
Getting started with Mobile CRM?
A mobile CRM is defined as accessing a CRM solution from a mobile device (e.g., tablet or smartphone). By definition, a mobile CRM is a version of your CRM solution that can be accessed from a mobile device (e.g., smartphone or tablet). Accessing up-to-date information about your customers and potential customers in real-time, thanks to a mobile CRM app, helps your sales force work smarter and faster.
Mobile customer relationship management or Mobile CRM enables those working in the field or remote employees to make use of mobile devices such as tablets and smartphones to access customer's accounts and data wherever they are. Mobile is a rapidly growing industry around the globe that is filled with potential customers. Thus mobile CRM is merged with both mobile sales force and mobile devices. The attempts made by mobile CRM enable employees to do everything that they would from a laptop. Therefore, it is essential to need the best CRM, designed with user efficiency and intuitive navigation in mind, without compromising feature sets. The departments that can use mobile CRM are sales, production, etc. Here sales reports can be submitted in client meetings in CRM.
Why is Mobile CRM Important?
Nowadays mobile phones have great importance in our lives. We need our smartphone's necessity right from the office work to manage our household, everything in day-to-day activities. Mobile CRM for sales and marketing is a new concept that is derived from the increased usability of smartphones. According to a business, it is necessary to maintain client relationships and mobile CRM can help to do those functions. It leads to better sales and operations experience. Mobile CRM can also help for maintaining and tracking transactions of clients, communication and the enterprise's dealings.
Customer Relationship Management is considered the key to the success of an enterprise. However, technology has played a vital role in completing most of the work with tablets and smartphones. Ultimately, a mobile CRM is helpful for companies to maintain a mutually beneficial relationship with customers by improving sales processes and ensuring timely follow-ups.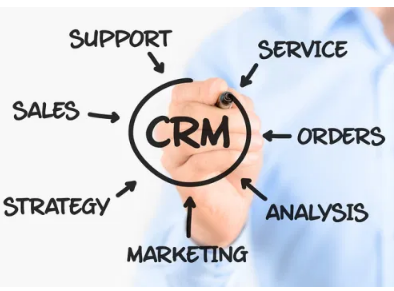 Following are the major benefits of giving your sales force access to a mobile CRM solution.
Improved Sales Force Productivity:
The ability to access critical information immediately for the sales team improves sales force productivity. No matter where they are, mobile CRM allows them to stay connected by accessing account information, viewing customer purchase history, and so on.
Increased Sales:
Mobile CRM apps allows all the information they need at their fingertips. Mobile CRM customers require very little time for tracking any information about the sales. By boosting forecast accuracy, CRM increases sales and improves the productivity of the sale.
Greater Communication and Insight:
A complete CRM experiences mobile devices such as smartphones, tablets, and other internet-enabled devices. It enables marketing, sales, and customer service to access and manage essential information in real-time, wherever they are.
A mobile CRM is also beneficial for sales managers who want to stay informed. It gives sales for managers by on-demand access. This improved insight allows them to handle certain potential problems before they arise.
Faster Access to Sales Material
The promotional marketing sheets, pricing guidelines, product information brochures, etc., can be sent directly from a mobile CRM application, eliminating the need to deliver in person, send through the mail, or send in an email later. This instant action of sending necessary materials will save the rep time to focus their efforts on customer service and sales actions.