Importance of Web Application Development for Business Growth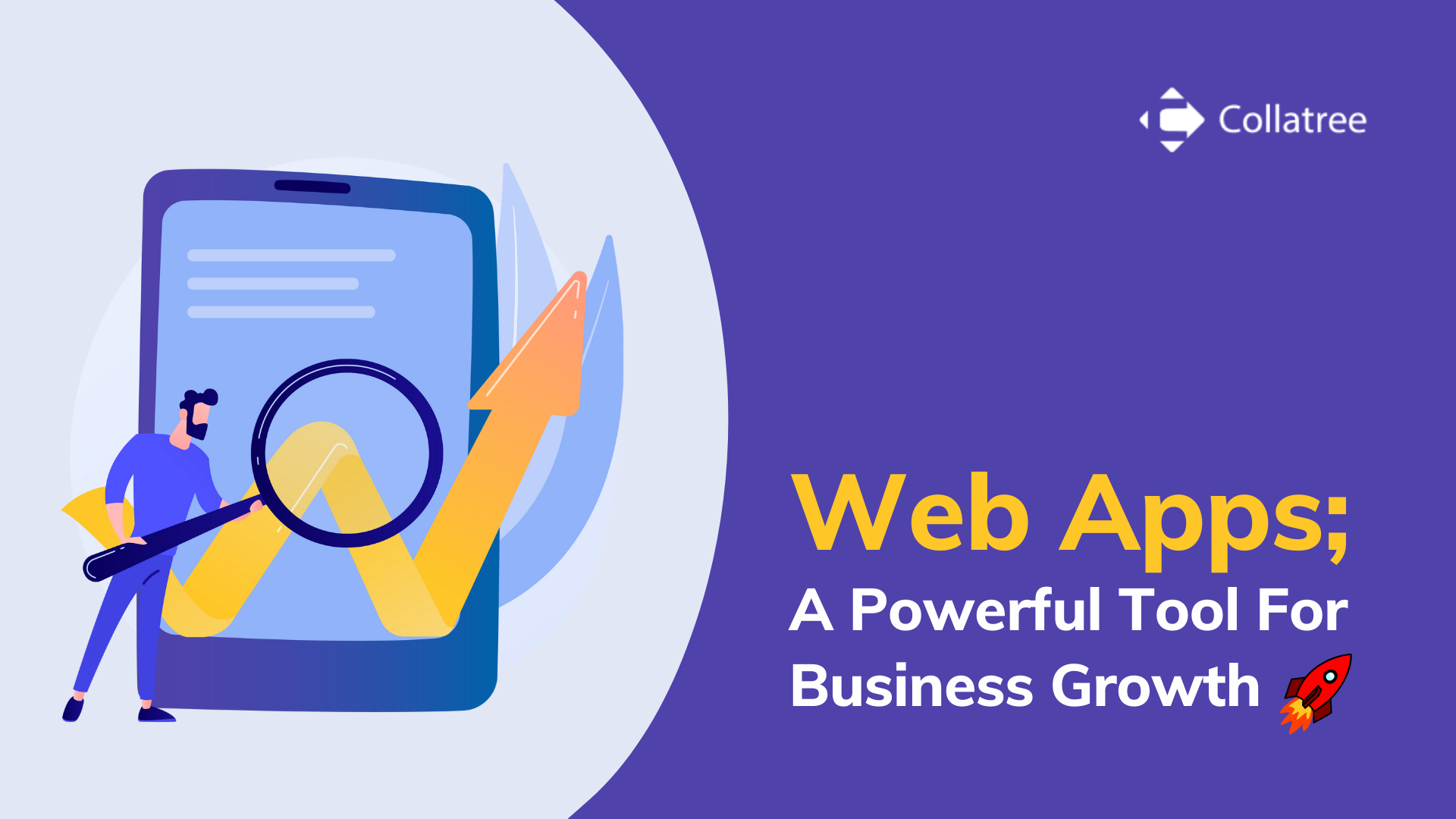 Business owners are constantly looking for ways to grow their businesses. With the advancement of technology, web application development is now a viable option for expanding your company's reach. Web applications can offer valuable services that will be available 24/7 and in any location. This means that you can provide all the benefits of your product or service without having physical outlets in other countries, states, or even cities.
It also helps with customer retention because people always need something done on their computer and by using a web application they have access to it whenever they want! The best part about developing website apps is that there is no limit as to what you can do and the options are endless.
Significance of Web Application Development for Business's Growth
Web application development is a client-server computer program that lives on web servers. It generates content such as the user interface and client-side logic that the web browser requires. Web applications are a combination of multiple functionalities that create a smooth experience for users. The users can navigate through the app with less or no assistance on proper interaction. Most of the web applications are written in JavaScript, HTML5, and Cascading Style Sheet (CSS). Some common web applications are Learning Management System, Online Retail Sales, Project Management System, Tracking System, WebMail, etc.
Web Application Development
Web app development is the process of building application programs that live on web servers and are delivered to their users via the internet. The development process involves creating web apps with dynamic features using web app development technologies. These Web applications are accessed over the internet and do not need to be downloaded. The web application user can access the web application with browsers like Google Chrome, Mozilla Firefox, Opera, Safari, and many others.
A web application development firm focuses on various promising trends in the web app development world which includes:
Artificial Intelligence
Responsive Web Design
PWA
Focussing online customer support
Static site generation
One page website
Motion UI
Dominance of Javascript
Web application development services are carried out or being rendered by a web application development company. These web app providers make sure about all the processes involved in their development cycle.
Artificial Intelligence
AI is a combination of theory and application of multiple areas like problem-solving, machine learning, natural language processing, reasoning, motion, perception, manipulation, social intelligence, creativity and general intelligence to create intelligent machines. This in turn helps in better user experience (UX). Besides that, AI has helped automate many web development tasks.
Responsive web design
Responsive web design (RWD) is one of the important factors ensuring a higher Google ranking during the search. Unless a website is mobile-friendly, Google ranks it lower. Also, a responsive web design makes a website view medium independent by providing dynamic serving.
Progressive web application (PWA)
Progressive web apps are the future of web development. Responsive web design being a preferred choice, native apps are still in use, and both of these apps have their defaults. PWA offers users the flexibility to load and use apps without installing them and even in offline mode through push notifications. In short, it provides a seamless browsing experience to the users.
Chatbot
With the introduction of artificial intelligence and machine learning into the tech world, businesses tend towards reducing human resources. Focussing on online customer support using chatbots is the main deal as Web application development firms can make the most of this module to enhance their clients.
Static site generation
Web development trends are now making clear inclinations towards static website generation. This is because of the complexity of dynamic web development and certain performance issues like longer loading time, lack of security, etc. With static website generators like Jekyll, a web app development firm can overcome these issues using static site development.
One-page website
Today simplicity is the new ultimate demand of the situation for every web app development firm. Now users prefer to have a one-page website rather than a multipage website. These multiple-page websites are more complex of traversing through multiple tabs and pages to scroll for information.
Motion UI
A User interface is one of the prime factors of website development. Also, motion UI is being used to provide the best-looking design solutions for animated charts, background animation, parallax, cloning, etc. Features like animation videos are part of Motion UI technology that works brilliantly for attracting users.
JavaScript Dominance
JavaScript is an essential part of the website as well as web app development. It's being used for both frontend and backend. It has been used as a server-side language only in the past. With its front-end libraries like Angular, React, or Node developers can practice front-end development.
Conclusion:
Web Application Development is in high demand for companies to become substantially growing. A well-built web app is capable of:
Reach and serve millions of consumers and businesses.
Generate multiple sources of income from the users, business owners, and advertisers.
Easily built business goodwill and assets based on audience reach, popularity, technology and potential growth.
Nowadays web application development firms follow the latest technology trends to flourish in the web app market. For their website or web app is an interface connecting the organization and its potential clients. Reach out for the best web application development company to build your web app and explore multiple functionalities and a better user experience.
If you're looking to grow your business and want an affordable, yet effective way to do so, web application development might be the answer. Web apps can offer a valuable service that is available anytime and in any location. It's no wonder then why there has been such a boom in app development over the past decade or so! We have experience with customizing applications for businesses of all sizes; whether it's just one person trying to build their own mobile app or if you're running a large enterprise-level company with multiple departments we've got you covered. Contact us today and let our team help turn your idea into reality!